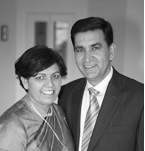 Today we feature Rai and Bimla by Swinburne University graduate Elise Cook.
Rai and Bimla have had a long, successful marriage, raising a family of three sons in Australia, and describe themselves as being more in love than ever. Their story of commitment, hard work, and a growing love, is inspiring. They believe their forty years of marriage, which is intact and still growing, is a testament to the fact that if you stick together in difficult times, you can grow to enjoy life together in old age. In fact, Rai says that love came into their relationship long after the wedding.
That's because, when Rai and Bimla met for the first time, they were already married.
Rai & Bimla "My Mum just told me, 'You're getting married'," Bimla shares, "I was excited but I didn't really know what it meant".